February 22 - Motivation
by Kathi
(Boise, ID)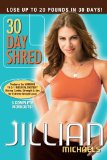 Jillian Michaels DVD
Well, I'm one month into my weight loss program, and I'm struggling just a bit with motivation. At my weigh in on Friday, I didn't lose. Then the weekend was tough, with me not following my diet plan much at all. Main problem was not eating enough.


I did get my exercise in, with Zumba on Saturday and a long walk on Sunday. But emotional upsets did tempt me not to eat properly. I weighed myself this morning though, and I actually lost .2, so that's not too bad.
Didn't feel motivated to go to Zumba today though. Used the excuse of a sore Achilles tendon again (a chronic injury) and back pain, but really I was just being lazy I think. Although now that I think about it, my routine is to go to Zumba on Monday afternoon, so I could still do it...
My daughter also told me about a
Jillian Michaels "30 Day Shred" video
that you can download from Amazon for under $5. I'm going to try that today or tomorrow. She says people at her favorite wedding blog are raving about the results.
So, I'll just keep trying...