Let's Get This Story Started!
by Kathi
(Boise, ID)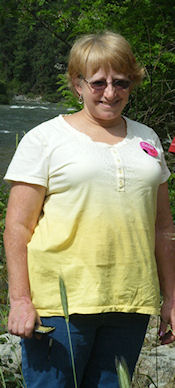 Me at 155 pounds
No time like the present to get the weight loss journey story started. So, you already read above... I'm fat. I weigh more than I want to or should, from a health perspective. I'm in my mid 50s and I need to lose weight NOW, if I hope to live a long and healthy life as planned. I have a lot of things left to do, so I've got to get skinnier.


My current weight is 156.8 and my goal weight is 110. I've already lost a bit over 4 pounds since I launched my weight loss program about 3 weeks ago.
This last week, though, was not a winner. Between eating out twice on Valentine's Day and a couple of other midweek snacks (I DO love a good microbrew!), I didn't lose anything this week. Boo...
And I worked really hard on the exercise too. Several walks with my honey and the dogs, as well as yoga class twice, cardio every day but Wednesday and weight training.
Still... at least I didn't really gain anything. Something to be thankful for, I guess.
So, the plan this next week is to get totally back on track with the Biggest Loser Club meal plan and to exercise even more, if possible. Or at least at a higher intensity.
OK... off I go!