Update June 26, 2010
by Kathi
(Boise, ID)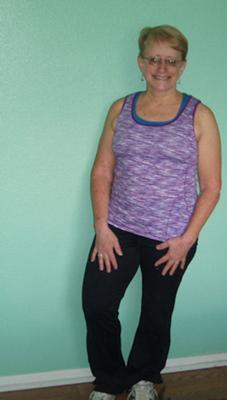 Me at 134 pounds (June 2010)
Time for an update. Actually, I should have written this a while back, but I've been struggling with juggling all my virtual balls in the air, of late.


Anyway... things are still going OK, but the weight loss has really stalled the past month. It's easy to feel discouraged and a bit frustrated. At my last update, I had lost 24 pounds thus far, and now a month later, I've lost only 27 in total. So only 3 more in a month. Sigh...
I can't seem to get off my threshold of 134/135 pounds. One day I hit 133 and I got all excited, but since then back up to the previous range.
However... my clothes are still getting looser and I've gone down a size or two in most things. So that's encouraging.
I'm not sure why I'm not losing like I was. It's very possible that I'm not watching my calories as closely as I was. I'm probably cheating a bit, though for the most part, I'm still eating as I have been the past few months. Still, little changes CAN make a difference.
My exercise is still going strong... except this week. I only got 2 workouts in this week, though I did go out for hour long walks 3 other times, so that's something.
I entered a 6-week fitness challenge at my YMCA; they tested us on pushups, shuttle run, situps and flexibility. The only one I did OK on, despite how fit I feel now compared to this time last year, was flexibility. Hopefully, I'm going to improve by the end of the 6 weeks!
So... I think I just need to get plowing along, watch my calories more closely and not lose sight of the goal. I'd still like to hit my goal weight by October and my daughter's wedding...